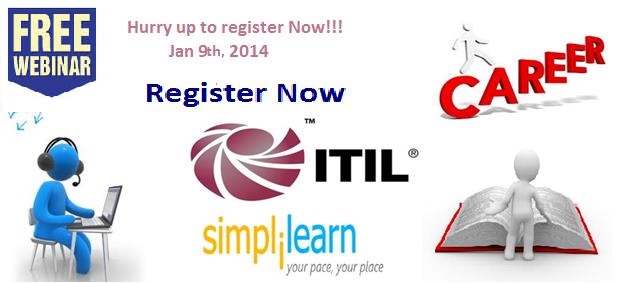 Build your knowledge in IT Service Management Domain this year by joining our Free Webinar on ITIL V3
Click Here: to Know More About us

Importance of ITIL V3 for an Organization and an Individual
ITIL is the most widely adopted approach for IT Service Management in the world. It provides a practical, no-nonsense framework for identifying, planning, delivering and supporting IT services to the business.
ITIL advocates that IT services must be aligned to the needs of the business and underpin the core business processes. It provides guidance to organizations on how to use IT as a tool to facilitate business change, transformation and growth.
Why Implement ITIL in Your Organization?
Many executives express frustration as they attempt to reign in the chaos and expense associated with their IT investments but find little in the way of substantive guidance. The IT Infrastructure Library (ITIL) is the worlds most widely accepted approach to the management and delivery of IT Services.
Many IT departments behave reactively, responding to events as they occur - for example, a server outage. Because unscheduled work tasks take priority over planned work, staff find that hey are always behind. By implementing ITIL, an organisation can overcome this cycle and get clear insight into the Total Cost of Ownership (TCO) and activities in the IT department.
Organizational Benefits to ITIL
Successful introduction of IT Service Management with ITIL should deliver the following benefits:
Improved customer satisfaction through a more professional approach to service delivery

Improved IT services through the use of proven best practice processes

Improved delivery of third party services through the specification of ITIL

Improved morale of service delivery and recipient staff

Increased competence, capability and productivity of IT staff

Increased staff retention

Reduced cost of training

Improved systems/ applications availability

A clear business differentiator from competitors

Closely aligned to commercial business services and products

Greater visibility of IT costs.
The economic impact of ITIL implementation will be realized in all of the areas above. The benefits can also be viewed in terms of direct and indirect savings. Costs relating to missed opportunities and not being able to operate will be reduced significantly.
Date: January 9th, 2014
Register now for this exciting event by clicking the following link or
you could also contact: Mark Nelson @ +1-281 668 7687
Looking forward to your participation www.simplilearn.com